Latest News
Details of some of our recent and forthcoming fundraising events:
2016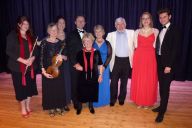 Saturday 14th May 2016 at 8.00pm at Manor Pavilion Theatre. SIDMOUTH LIONS CLUB's 40TH ANNIVERSARY CONCERT. A 'black tie and bubbly' gala evening of music and song from screen and stage, led by Vicki Campbell and special guests, in celebration of 40 years of Sidmouth Lions Club's existence and its services to the community. All proceeds from the concert were used for Sidmouth Lions charity activities.
2017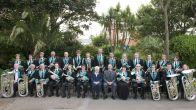 SATURDAY 11th FEBRUARY 2017 - CHARITY CONCERT at 7.45pm at Manor Pavilion Theatre, Manor Road EX10 8RP. The award winning SIDMOUTH TOWN BAND plus GUEST ARTISTES performed a delightful selection of popular, traditional and classical music and songs.
SATURDAY 20th MAY 2017 - RIVERTONES HARMONY CHORUS & VICKI CAMPBELL at 7.45pm at Manor Pavilion Theatre, Manor Road EX10 8RP. The amazing Rivertones Harmony Chorus from Taunton made a welcome return to the Manor Pavilion Theatre, Sidmouth. This 40-strong a capella (unaccompanied singing) harmony chorus performed popular and traditional songs from their extensive repertoire. The concert also starred talented, local songbird Vicki Campbell, who sang a delightful selection of her favourite songs from stage shows and films.
SUNDAY 9th JULY 2017 - SIDMOUTH LIONS GREAT DUCK DERBY on the River Sid in the Byes, Sidmouth from 2.00pm to about 4.30pm.
The 'Duck Derby' consists of two large Duck races on the River Sid, between Sid Park Road and Salcombe Road bridges, plus additional attractions for children, including Duck & Spoon races, other fun games, a Big Slide and Bouncy Castle and tastey ice creams.
The races all started in the Sid Park Road bridge area and commenced at 2.00 pm with the children's Duck & Spoon races. These are followed at 2.45 pm by the Corporate Duck Race, for the red ducks sponsored by local businesses.
The main public Duck Race started at 3.00 pm when hundreds of little yellow ducks were launched into the Sid from Sid Park Road bridge, to race downstream to the finish line by the weir at Salcombe Road. Tickets for the yellow ducks are £1 each from Sidmouth Lions and there are cash prizes totalling £1,015 to be won. This year's main charity beneficiaries were Parkinson's UK and Devon in Sight, the sight loss charity. In total, the 2017 Duck Derby raised over £5,500 for charity!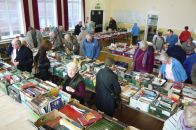 SATURDAY 21st OCTOBER 2017 - SIDMOUTH LIONS GREAT BOOK SALE at St Teresa's Church Hall, Vicarage Road, Sidmouth EX10 8TW, from 9.30am to 12.00noon. HUNDREDS OF GOOD BOOKS plus DVDs & CDs and a CAKES STALL. Entrance 50p includes a cup of coffee/tea.
7.45 pm FRIDAY 8th DECEMBER 2017 - 'A Wink and a Smile' in the glorious Music Room at Sidholme Hotel, Elysian Fields, Sidmouth EX10 8UJ. Songbird Vicki Campbell and piano maestro Oskar Hammond perform a great selection of favourite songs and music from stage musicals, films and 'pop' from across the decades. Tickets £10 from 'Paper Moon', 38 Fore Street (opposite Boots), Sidmouth, Tel: 01395 513977. Proceeds primarily for CLIC Sargent, plus Sidmouth Lions charity activities.

From Friday 1st to Thursday 21st December 2017, SIDMOUTH LIONS' SANTA with his splendid sleigh and team of Lion helpers, will tour Sidmouth, Sidford, Sidbury and Newton Poppleford.
(See link under Latest News at top left for details of Santa routes).
We look forward to seeing you at our events - thank you for your support!
GIFT AIDED DONATIONS TO SIDMOUTH LIONS
The Lions Club of Sidmouth is a Registered Charity - No. 1015311
If income tax paying members of the public wish to make Gift Aided donations to Sidmouth Lions charity activities, they should contact Lion Chris Rignall, Tel. 01395 577450, for more information. Gift Aided charitable donations can usually be enhanced by as much as 25% with a tax rebate claim made by the charity.